DibbsBarker is an Australian commercial law firm known for its strategic focus on six key industry areas: Agribusiness, Energy, Financial Services, Insurance, Life Sciences & Healthcare & Property.
DibbsBarker have engaged Power Creative to create a series of interviews with both internal and client focus for various newsletters and marketing materials in the market place.
This interview features DibbsBarker Partner, Rob McInnes talking with his client; Minomic CEO Brad Walsh
Minomic is a Sydney-based biotechnology company developing new technology relating to the diagnosis and treatment of prostate cancer.
Minomic CEO Brad Walsh speaks with DibbsBarker's Rob McInnes about how Minomic's work has progressed since the company's formation in 2007, and why it is so important for companies like Minomic to have a clear strategy around the protection of intellectual property rights.
Here is the original article, released September 15, 2016 by DibbsBarker via their website and social streams.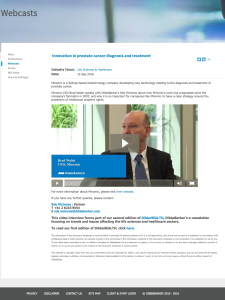 2 cameras
Intellectual Property
Interview
Legal Firm
Research